Now with CV control over modulation speed! See v2 schematic and BOM below.
Two sounds enter. One sound leaves. That's the basic concept of this module. Built around a DG419 analog switch, the Thunderdome uses an internal 7555-based, square-wave oscillator to switch between two input signals at audio rate, producing sounds ranging from atonal and metallic, to rhythmic and musical.
Use the range toggle to select between two oscillator frequency ranges: the low range dips down almost out of audible frequencies, while the high range gets up to kHz frequencies.
Optional External Mod input bypasses the internal square-wave oscillator allowing for the use of external voltage sources to trigger the switch. Different waveforms will produce different results, determined by the length of time the waveform stays above the reference voltage threshold. Patch in an LFO or a clock signal to slowly switch back and forth between sounds.
Schematic
Schematics are provided as-is. Never trust that any schematic on the internet is foolproof. Test your build in isolation before introducing it to the rest of your modules.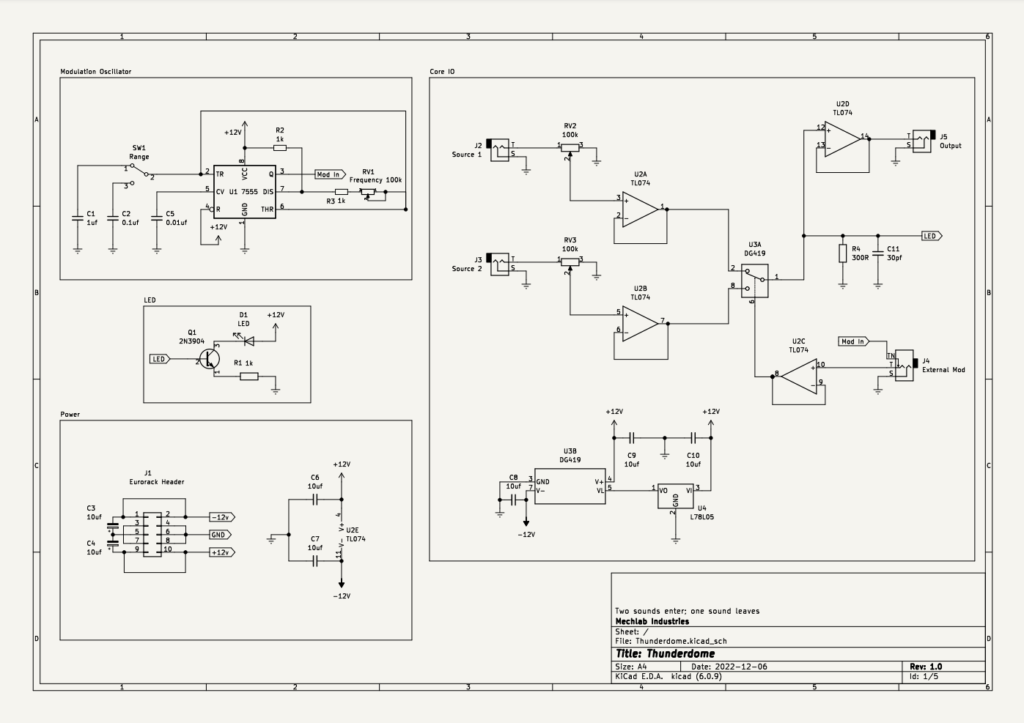 BOM v1
Capacitors

30pf ceramic capacitor (1) C11
0.01uf ceramic capacitor (1) C5
0.1uf ceramic capacitor (1) C2
1uf ceramic capacitor (1) C1
10uf ceramic capacitor (5) C6, C7, C8, C9
10uf electrolytic capacitor (2) C3, C4

Resistors

1k resistor (3) R1, R2, R3
300R resistor (1) R4

Potentiometers

A100k (2) RV2, RV3
B100k (1) RV1

Transistors
ICs

7555 timer (1) U1
TL074 op amp (1) U2
DG419 analog switch (1) U3
L78L05 5v regulator (1) U4

LED (1) D1
Eurorack power header (1) J1
Audio jacks (3) J2, J3, J5
Switching audio jack–e.g. Thonkiconn (1) J4
SPDT toggle (1) SW1
BOM v2 (adds CV control over modulation speed)
Capacitors

30pf ceramic capacitor (1) C11
0.01uf ceramic capacitor (1) C5
0.1uf ceramic capacitor (1) C2
1uf ceramic capacitor (1) C1
10uf ceramic capacitor (5) C6, C7, C8, C9
10uf electrolytic capacitor (2) C3, C4

Resistors

1k resistor (3) R3, R4, R6
100R resistor (2) R2, R5
100k resistor (1) R1
300R resistor (1) R7

Potentiometers

A100k (2) RV3, RV4
B100k (1) RV2
B100k trimmer (1) RV1

Transistors

2n3904 transistor (2) Q1, Q2

ICs

TL071 op amp (1) U1
7555 timer (1) U2
TL074 op amp (1) U4
DG419 analog switch (1) U5
L78L05 5v regulator (1) U6

LED (1) D1
1N4148 diode (1) D1
VTL5C Vactrol (1) U3
Eurorack power header (1) J2
Audio jacks (4) J1, J3, J4, J6
Switching audio jack–e.g. Thonkiconn (1) J5
SPDT toggle (1) SW1
Demo