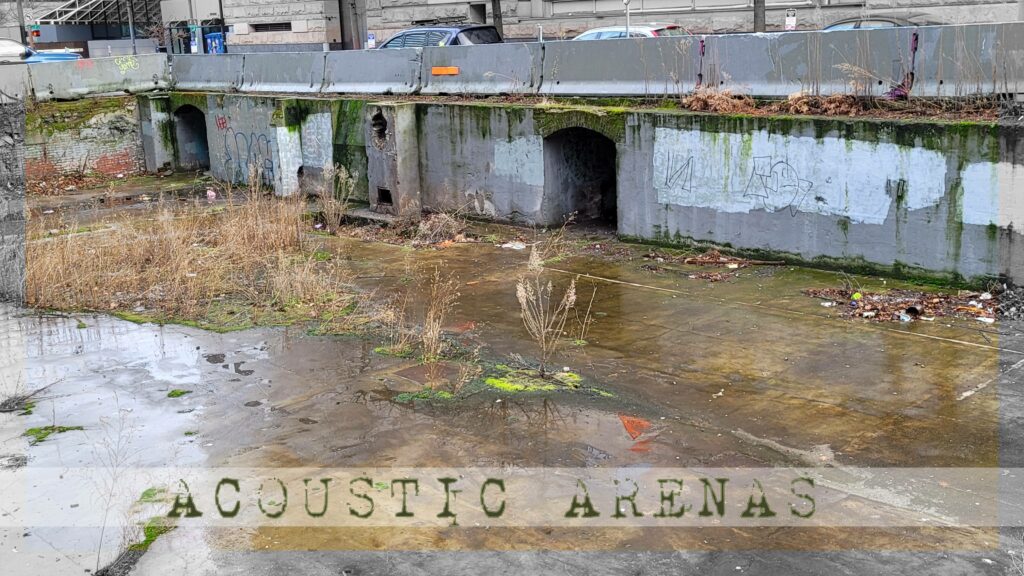 "Auditory spatial awareness is a neurological reaction (conscious and unconscious) to spatial acoustics and is one information channel through which the auditory organ receives stimuli. This cognitive process transforms raw sensation into awareness by triggering an elevated state of mental and physical awareness."
Acoustic Arenas is a found sound project by Mechlab Productions, focused on capturing the acoustic events and aural architecture that surrounds us in our modern world. Urban cacophony; natural sounds; architectural ambience; auditory snippets of life in situ: captured in stereo for your sonic explorations.
Enjoy the free Legacy Collection, captured over a six-year period from 2005 through 2011, in MP3 format below. Higher-quality WAV files are available for Acoustic Arenas patrons, along with exclusive access to new monthly recordings, starting May 2023.
| Date | Recording | Download |
| --- | --- | --- |
| Nov. 14, 2005 | Fetal heart monitor | MP3 |
| Apr. 01, 2006 | Birds with drilling noises | MP3 |
| Apr. 01, 2006 | Studio Chatter Pt. 1 | MP3 |
| Apr. 01, 2006 | Studio Chatter Pt. 2 | MP3 |
| Feb. 28, 2008 | Bar noise | MP3 |
| Mar. 30, 2008 | Children talking | MP3 |
| Mar. 30, 2008 | Clothes dryer noises | MP3 |
| Mar. 30, 2008 | Preparing dinner in the kitchen | MP3 |
| Apr. 01, 2008 | Bar noise, Shilo Inn | MP3 |
| Apr. 02, 2008 | Din from the floor of a call center Pt. 1 | MP3 |
| Apr. 02, 2008 | Din from the floor of a call center Pt. 2 | MP3 |
| Apr. 03, 2008 | A trip to the grocery store | MP3 |
| Apr. 03, 2008 | Making coffee at work | MP3 |
| Apr. 06, 2008 | Assorted house noises | MP3 |
| Apr. 06, 2008 | Clock in the living room | MP3 |
| Apr. 09, 2008 | Going out to start the car | MP3 |
| Apr. 09, 2008 | Unloading groceries from the car | MP3 |
| Apr. 10, 2008 | Traffic in the parking lot of Best Buy | MP3 |
| Apr. 10, 2008 | Birds in Columbia Park | MP3 |
| Apr. 10, 2008 | Refueling at the gas station | MP3 |
| Apr. 10, 2008 | Slow moving train and traffic | MP3 |
| Apr. 14, 2008 | Truck in the early morning rain | MP3 |
| Apr. 17, 2008 | Birds and rain in the morning | MP3 |
| July 05, 2010 | Harbor Steps fountain [front] | MP3 |
| July 05, 2010 | Harbor Steps fountain [rear] | MP3 |
| July 05, 2010 | Metro Rt. 4 to Downtown | MP3 |
| July 05, 2010 | Pike Place Market | MP3 |
| July 05, 2010 | Post Alley | MP3 |
| July 05, 2010 | Weird Klaxon on First Hill | MP3 |
| Aug. 10, 2010 | Brewing coffee | MP3 |
| Aug. 10, 2010 | Unloading and reloading the dishwasher | MP3 |
| Aug. 10, 2010 | Window fan | MP3 |
| Aug. 22, 2010 | Erhu busker | MP3 |
| Sept. 25, 2010 | Saturday Market Pt. 1 | MP3 |
| Sept. 25, 2010 | Saturday Market Pt. 2 | MP3 |
| June 08, 2011 | Cascade Park | MP3 |
| June 08, 2011 | Emily's tea kettle | MP3 |
| June 09, 2011 | Mercer St. Underpass Pt. 1 | MP3 |
| June 09, 2011 | Mercer St. Underpass Pt. 2 | MP3 |
| June 09, 2011 | Victor Steinbrueck Park | MP3 |
| June 10, 2011 | Bus ride in the Downtown Transit Tunnel | MP3 |
| June 10, 2011 | Cal Anderson Park | MP3 |
| June 10, 2011 | Convention Place Station | MP3 |
| June 10, 2011 | International District Station | MP3 |
| June 10, 2011 | Pioneer Square Station | MP3 |
| June 10, 2011 | University St. Station | MP3 |
| June 10, 2011 | Westlake Station | MP3 |